The Calling Card Murders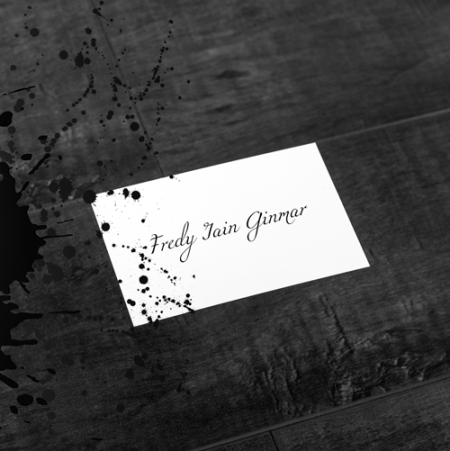 On March 15th, 1992 a young woman named Regan Sybil was found murdered. She had been killed due to blunt force trauma and her blood had been splattered throughout the living room of her downtown Pørtland apartment. Her apartment was locked from the inside and the only evidence of an intruder was a calling card left at the scene with the name "Fredy Iain Ginmar" scrawled on it. Sybil's body was discovered after neighbors complained of hearing loud, repeating music. Witnesses described the music as "a really creepy music box".
Exactly two years later another woman, Bee Trice, was also discovered murdered due to blunt force trauma, once again in a locked apartment with no sign of forced entry, and once again the calling card appeared and once again the same music was playing.
Two years after that a young man named Jefferson Patrick was found murdered in his apartment. This instance marked the first time a man was the victim, but otherwise every hallmark of the murder was the same, right down to the calling card proclaiming "Fredy Iain Ginmar".
The Calling Card Murders are one of the longest running serial murder cases in the history of Cascadia and have stymied a series of investigators looking into the murders from a variety of law enforcement divisions throughout Cascadia.
To date, 11 victims have been discovered: Regan Sybil, Bee Trice, Jefferson Patrick, Aidan Joseph, Nuria Allegría, Corné Altair Bartalotti, Ælfgar Resnik, Keefe Kraus, Filippa Gouveia, Katy Marx, and Charleene Laughing Bird.
After the 2014 murder of Charleene Laughing Bird Pørtland's Overborgmeister called for the creation of special task force dedicated to solving the crimes. Taline Mooshian, an investigator from the Special Investigations Division of the Cascadian Sovereign Police, and Jake Clarke, the lead investigator for the Pørtland Major Crimes Unit, were assigned to head the task force.
As of February 19th, 2016 no arrests have been made in relation to the case.
The name on the card, "Fredy Iain Ginmar" appears in no database used by the Cooperative Intelligence Service. It has been speculated that the name is an anagram, an acrostic, a chronogram, or which possesses some other kind of hidden meaning.
The music, which has no known origin or name, is a kind of music box riff common to the Cascadian, Neo Spanish, and Columbian music boxes popular in the late 1800s.